Party Culture

---
CLUB BADD
1999-2001

Club Badd began in 1999 at The Pyramid Club in the East Village. It was created by Larry Tee and Spencer Product (then Spencer of Brooklyn Boy Productions). Part performance salon, part dance party, Badd was every Sunday night for those who sought out the new and interesting, not to forget weird talent on the downtown pulse. The sound was electro meets punk new wave, which resurrected old classics out of retirement from the record collection whilst inspiring new offspring acts for it's local stage,






BERLINIAMSBURG
2001-2003

Berliniamsburg was a weekly club night following Club Badd. Inspired by the similarity of the rising scenes in Williamsburg, Brooklyn and Berlin, Berliniamsburg put the quiet burgeoning neighborhood of Williamsburg into slew of press and buzz around the popularity of this weekly cabaret. Filled with a mix of artists, designers, musicians and fashionistas, this night held stage to local, domestic, and international talent on its stage from Peaches to Avenue D to 2 Many DJs, this tiny club had a major impact on the present-day landscape of Williamsburg's vibrant scene. Spencer convinced many of New Yorker's including his business partner, Larry that the Williamsburg scene was the future of NYC.



MUTANTS
2001-2003

Mutants was the offspring of Berliniamsburg. As the numbers of party-goers increased and crowd grew more mainstream, the weekend counterpart, Mutants, was created. More art-house music selections and performances tailored to an avant-guard scene of people. Mutants celebrated the obscure and irreverent attitude of the NYC nightlife scene.



HOT MONKEY,
HOT ASS!
2003-2004

Hot Monkey, Hot Ass! was a post-Electroclash event serier each Thursday on the southside of Williamsburg, Brooklyn. Each week featured avant-garde performances and an exploration of a punk-disco sounds. This event would be the precursor to "We Bite!" at Happy Ending.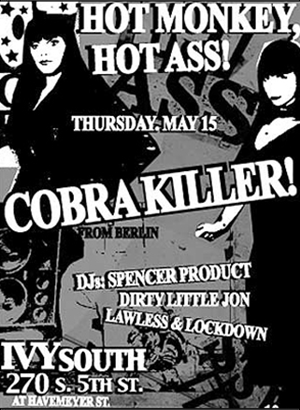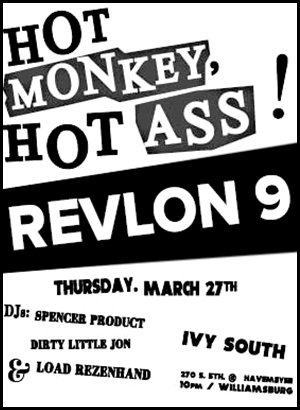 WE BITE!
2003-2006

Born off the coattails of Electroclash, We Bite! was a weekly party aimed for a more rock'n roll attitude. Nestled downtown in the basement of Happy Ending on Tuesday night, it was a dead bet that this night would be filled a "locals-only" mix of friends and scenesters....but that almost happened. After a few months, this night garnered international attention for it's sleazy, rock'n roll hangout filled with music-minded rock'n rollers and LES artists.

Soon, Tuesday night became Saturday night in NYC. Everywhere was a Tuesday indie party and Happy Ending was pulsing with touring artists doing guest DJ sets from Franz Ferdinand, Bloc Party, Interpol, Yeah Yeah Yeahs, The Rapture, and reputable DJs such as Felix Da Housecat and Tommie Sunshine.

Sadly, co-collaborator, Stephen Lockdown passed away right after being named"Best DJ Duo" with Spencer at the First Annual Nightlife Awards.
After three solid years for amazing party moments, We Bite! was put to rest in honor of Stephan Lockdown.

(R.I.P. Stephan Lockdown)


RUFF CLUB
2006-2009


Ruff Club was born in the last days of "We Bite!" It began as an amalgamation of the previous energies of club nights produced by Spencer. Part rock'n roll, part electronic dance party, Ruff Club became an institution of nightlife destinations every Friday night on New York's Lower East Side.

Each week the mainfloor held performances by such acts as Ssion, The Films, The Paddingtons, Adam Green, Selfish Cunt, Van She, A.R.E. Weapons and more. While the mainfloor pulsated with international DJs from Boyz Noize to Arthur Baker, the basement would be an intimate party den of rock'n roll and party hits in an open format DJ style. Ruff Club ended when it's home, The Annex closed and was sold in 2009.








"Everything's Ridiculous" was a summer event series held at the soho grand hotel in nyc each wednesday evening. it was a sundown cocktail hour event which spanned from 6pm - 10pm each week at The Soho Grand Hotel in New York. It featured ecclectic musical vibes held in the outdoor garden.








"We Live By Night" was a continuation of Spencer's nightlife productions. This party was commissioned by Mr. H in the Soho Mondrian hotel and was produced with fellow DJ cohorts, Elle Dee and Franco V. Although it quickly grew as an attractive destination in the NYC nightlife circuit.